A Healthy Thankfulness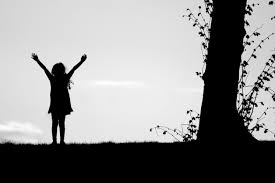 I stepped off the bus apprehensive about the scene unfolding in front of me. The Infirmary or "Home for the Poor" as it was otherwise known, was a collection of dilapidated barracks housing abandoned physically and mentally ill men and women who were deemed to have no value to either family or society. The Infirmary was located on a purposefully isolated knoll in coastal Jamaica symbolically situated to reinforce their desire to forget its existence. The contrast surrounding its physical location was as stark as the dichotomy of the island itself. A lush forest populated with exotic fruit trees and bathed in rainbow colored foliage surrounded the ramshackle open aired barracks originally commissioned by Queen Victoria in 1898. On an island where five-star luxury resorts share the same zip code as cockroach infested hovels, the mocking beauty of the surrounding forest was in contradistinction to the decaying dormitory of the forgotten.
We were greeted gleefully (and a bit unexpectedly) at the door of the men's quarters by a thirtyish Jamaican, physically mature but with the mind of a child. Richard had a toothless smile the size of the island itself as he exclaimed, "Oh boy, they're here! Oh boy, they're here!" in raid fire succession. His repetitive phrases were sincere and he instantly touched our hearts and calmed some of our apprehensions. We came to learn that Richard had been housed at the Infirmary all of his adult life, and his apparent inability to understand the destitution of his surroundings was counted as a blessing.
Entering the first cinder block building I was struck by numerous sensations all vying for attention. Visually the scene was disturbing: cot after cot of ancient bodies positioned as if trapped in their bed by some invisible barrier. The distinctive odor, one I had come to associate with hopelessness, was a mixture of urine, putrid food, and stale, unmoving air, and it covered the room like an unseen fog.
Our small band of church mission workers spent an hour in the Infirmary talking, praying, bathing and cleaning our hosts. Soon, we loaded up a few of the less ill and mobile onto our bus and made the short trip to the Jamaican beachfront frequented by the locals. There were no hotels, Tiki bars, or swimming pools, just a few kids and adults enjoying a respite from the oppressive heat. Those who were ambulatory walked arm in arm with their chaperone to the shoreline, while others were carried fireman style to the water. We sat in the cool, shallow waters of the Caribbean and spent the next few minutes rubbing soft sand on the resident's life-weary skin, all the while hoping that they might forget for just a moment that they had to return to their reality.
Earlier in the day I had observed a skeleton-thin, talkative gentleman pacing to and fro among the cots greeting other residents all the while holding up an obviously grossly oversized pair of trousers. As I sat in the gentle cleansing waves with Zebe, the owner of the XXL pants, I asked him if he could have anything in the world – anything at all – what would he ask for? He took the question quite seriously and pondered it briefly then looked me in the eye and in his most thoughtful voice exclaimed, "A belt. Yes, I would very much like a belt!"
This is a time of year when we invoke thankfulness in an almost nonchalant fashion. I have to remind myself to punch through the complacency of abundance and rethink what it means to be thankful. We are bombarded with admonitions to be thankful for a free country, good health, and material comforts. All of these things are grand and worthy of thanks; however, thinking of Zebe reminds me that the things that I see as worthy of thanks are largely due to my perspective.
Regardless of circumstances, I can choose to be thankful. Tethering my appreciation only to objects or accomplishments is a set up for disappointment as those things may not always be present; however, if my basis for thankfulness is rooted in my ability to choose, then no circumstance can dissuade me. Choosing to be thankful for your good health (and your ability to change it if you are not satisfied) leads to joy, peace of mind, and goodwill.
I see the world through my own lens. In other words, where you are in the world, physically, emotionally and spiritually, colors how you understand thankfulness. If I had cancer, I would be very thankful for the anti-nausea medicine that follows the powerful chemotherapy; whereas, such medicine would not enter my thoughts otherwise. If I have all my worldly possessions stashed under a six by three foot cot, I am thankful for a belt. It is a matter of perspective.
Let us celebrate this season of thankfulness with an understanding and appreciation of our choices, and hopefully, this will lead us to action that will translate into healthy blessings for ourselves and others.